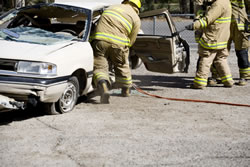 As a chiropractic patient, you may wonder how your Portland chiropractor, Dr. Helton, is so knowledgeable about so many areas of health. He is always available to answer questions on so many areas, including these:
Why do I get headaches after I take analgesics?
Will chiropractic treatments prevent sports injuries?
Is it possible to end up with jaw pain after an auto accident?
Is the reason why I'm healing faster from whiplash than my spouse because I received chiropractic?
If my car and the truck that hit it weren't going that fast, why do I have so many injuries?
Can changing my nutrition help me recover faster?
What many people don't realize is that chiropractic practitioners are trained in a lot more than anatomy, physiology, neurology, and biochemistry. The body is complicated and deserves a lot of study – and the chiropractic curriculum includes 168 hours of orthopedics, 271 hours of x-ray coursework, close to 300 hours of pathology, the exact same amount of hours of coursework in microbiology and infectious diseases, and over 400 hours of diagnosis coursework.
The chiropractic curriculum also covers health habits pretty extensively as well as therapeutic exercises; how to balance muscle strengths, and even how to eat to get healthy. Often health needs a total turnaround that involves changing lifestyle habits such as how you walk, how you eat, and how you do your job, including how you sit at your desk. Your Portland chiropractor, Dr. Helton, is a perfect health adviser for you because of his extensive background in many different aspects of health, not just disease.
Don't be afraid to talk to Dr. Helton about whatever is on your mind about your health. Every question you ask can be a door into greater and greater health. If you're searching for a way to help fend off disease and heal faster from injuries, make an appointment in our Portland, OR office. Your body will thank you.